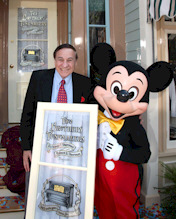 Main Street, U.S.A. was buzzing this past week with the tune of several familiar songs as Richard and Robert Sherman were honored with their own window.  The window dedicated to the Sherman Brothers reads "Two Brothers Tunemakers," with their names inscribed underneath. A window dedication is the highest honor a cast member can receive at Disneyland Park.
If you are unfamiliar with the Sherman Brothers' work, the next time you get 'it's a small world (after all)" stuck in your head, you'll have them to thank.
In all seriousness, the Sherman Brothers are largely responsible for the rich history of Disney park attractions and films. They are the creative geniuses behind the theme songs for several attractions (The Enchanted Tiki Room, Carousel of Progress) and songs from the movies "Mary Poppins," "The Jungle Book," "Bedknobs and Broomsticks," "The Aristocats" and "Winnie the Pooh.
The video below recaps the ceremony itself in which Richard Sherman was present to accept the honor.