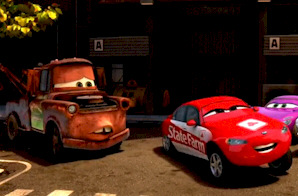 State Farm has joined with Disney/Pixar's Cars 2 movie for a fun commercial that features characters from the film. As part of this partnership the insurance giant is hosting a 30 city tour featuring life-size vehicles from Cars 2 with prizes as well including a new Cadillac SRX.
In the commercial, Mater, Finn McMissile and Holly Shiftwell, are talking about completing missions. Mater causes a mishap and a State Farm agent character, Sara Safestreet, shows up to show how we have you protected. The State Farm Pitties clean up the mess and show that State Farm an State Farm agents are there to take care of you.
Here is the official press release:
State Farm is playing a major role in preparing fans for Disney•Pixar's CARS 2, which races into theaters on June 24, 2011, through its "Agents on a Mission" promotion that provides fun for the whole family. The "Agents on a Mission" promotion features CARS 2-themed interactive experiences and 18,000 prizes, including a new Cadillac SRX.
Star racecar Lightning McQueen (voice of Owen Wilson) and the incomparable tow truck Mater (voice of Larry the Cable Guy) take their friendship to exciting new places in Disney•Pixar's CARS 2 when they head overseas to compete in the first-ever World Grand Prix. But the road to the championship is filled with surprises when Mater gets caught up in an intriguing adventure of his own: international espionage. Mater finds himself torn between assisting Lightning McQueen in the high-profile race and towing the line in a top-secret mission orchestrated by master British super spy Finn McMissile (voice of Michael Caine). Directed by John Lasseter and produced by Denise Ream, the fast-paced fun includes a colorful new all-car cast, complete with menacing villains and international racing competitors. CARS 2 will be presented in Disney Digital 3D™ and IMAX® 3D in select theaters.
State Farm's "Agents on a Mission" promotion brings the adventure of CARS 2 directly to fans. In preparation for the movie's release this June, State Farm continues to connect families face-to-face with their favorite CARS 2 heroes through the 30 city "Agents on a Mission" Tour. The tour features life-sized, remote controlled, replicas of the film's characters and allows families to act as "special agents" and participate in online promotional activities and games onsite. Promotion participants will be able to access special agent-"confidential" information and become eligible to unlock one of 18,000 prizes ranging from night vision goggles to a new Cadillac SRX.
State Farm agents across the US and Canada are assisting new "Agents on a Mission" recruits and distributing special agent ID/decoder cards and CARS 2 giveaways at their local offices. After receiving the special agent ID card, participants can access online games and puzzles designed to train "special agents" to use simulated security, surveillance and communication devices in order to complete special missions.
To help promote the CARS 2 movie launch, State Farm will air a 30-second animated commercial entitled "Pitties," demonstrating that while you can't always be prepared, State Farm agents are always looking out for you. The national spot, created by DDB-Chicago, features characters from Disney•Pixar's CARS 2 alongside the State Farm pit crew. The national spot will first air on May 24th during programs including American Idol's season finale, with a pre-show cinema campaign in select theatres beginning on June 10, 2011.
"State Farm is excited to be supporting the release of Disney•Pixar's CARS 2. The theme of the movie is very similar to State Farm's values- protecting families, said Pam El, State Farm marketing vice president. "Like the lovable characters in CARS 2, 18,000 State Farm agents are on a mission to help families, covered under the 81 million policies and accounts we service, enjoy the safety, support and peace of mind that comes with having a trusted neighbor."
State Farm will be a presenting sponsor at the movie's world premiere on June 18 at the El Capitan Theatre in Hollywood.
For more information about State Farm and the "Agents on a Mission" promotion, like State Farm on Facebook: facebook.com/statefarm, or follow State Farm on Twitter: twitter.com/statefarm. To access "Agents on a Mission" online games or enter the sweepstakes, visit www.disney.com/agents.