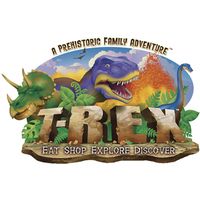 Landry's Restaurants, the same company that brought us The Rain Forest Cafe, has created an amazing new concept in dining experience with the opening of the T-REX Cafe in Downtown Disney Orlando. This new eatery will feature dining and retail in an interactive prehistoric environment built around water, fire and ice. Guests visiting T-REX will experience life-sized animatronic dinosaurs, bubbling geysers, a fossil dig site and much more, taking them back to a time when dinosaurs roamed the earth.
"T-REX will attract visitors of all ages with its mix of delicious food and unique entertainment," said Tilman Fertitta, president, chairman and CEO of Landry's. "Downtown Disney is the perfect location for this innovative concept."
T-REX is described as not just a place to visit but a haven of exploration. Would-be paleontologists can practice their skills in the Discovery Dig Site, a large excavation pit with replicas of fossil bones waiting to be uncovered. The Geode Splitter breaks up geodes to display hidden minerals. Pan for precious stones, gems and fossils within Discovery Creek "sluice." Plus, guests will be able to expand their knowledge of the dinosaur era and play one of several family-friendly games on the interactive Paleo Screens.
"Landry's and Schussler Creative have a proven history of creating entertaining dining concepts and we are thrilled to work with them again," said Kevin Lansberry, vice president of Downtown Disney. "T-REX is right in line with our vision to provide exciting and one-of-a-kind experiences for guests of all ages."
Visitors to the T-REX cafe will be greeted by a 125-foot long skeletal version of a replica of an Argentinasaurus and an animatronic Tyrannosaurus. Once in the restaurant, guests will notice a giant animatronic octopus sitting on top of the Shark Bar, motioning guests in for a specialty drink and a view of a 5,000-gallon shark tank. Lava rock, lighting effects and greenery all combine to transport visitors into a time long ago.
The restaurant includes 30,000 sq. ft. of dining space and will seat up to 600 guests. It is is divided into several separate, distinctive dining rooms, each with its own theme and animatronic dinosaurs. Areas include the Ice Cave, Coral Reef Dining Room, Fern Forest, Geo-Tech Room and Sequoia Room . Also an amazing meteor shower travels across the dining room ceiling every 20 minutes.
But, while the decor may be prehistoric, the food facilities are cutting-edge. The Kitchen of Fire offers an open kitchen with a giant rotisserie that allows visitors to see meals being prepared. Dishes including the Bronto Burger, Triassic Tortellini, and the one-of-a-kind Boneyard Buffet will keep both carnivores and herbivores extremely happy. Guests can also visit the Dino-Store for exciting dinosaur-related apparel and gifts.
Be sure to visit the official T-Rex website for details on menu, shopping and much more. You can also visit the official Walt Disney Resort site for more info including hours for this location and how to get Priority Seating.
This dynamic new eatery is scheduled to open this coming Tuesday, October 14th at Downtown Disney in Orlando Florida at the Walt Disney World Resort.
Related: Book your dream Disney vacation at Expedia.com!