It's official – the Disney Gallery which formerly resided above the Pirates of the Caribbean attraction (which is now the exclusive Dream Suite) will find a permanent home in the building that currently houses the Main Street Bank and part of the Opera House lobby.
The bank's 1955 interior, which has been used primarily for Annual Passholder processing over the last 15 years will be torn out, along with at least half of the Opera House's lobby.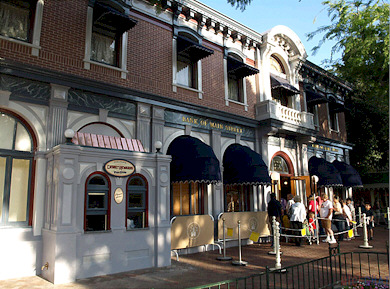 While there is no indication that the Main Street Bank will continue to survive somewhere else, most of the artifacts from the Opera House lobby, including Walt's office exhibit, are planned to be moved to Disney's California Adventure as its entrance corridor and Hollywood area are gradually transformed to recreate the Southern California of Walt's early days.
The Disney Gallery has been operating in temporary quarters in the Opera House exit for the last six months after it was evicted from its prior location in New Orleans Square. Fans have been pushing for a permanent home ever since and now they will have their wish, albeit at some sacrifice.
While the Main Street Bank has not served any other purpose in recent years with the exception of an annual passport processing center, those who are nostalgic about Disney's original main Street will have to be sad to see it go.
The bank originally served as the location for the Disneyland Bank of America branch which opened in 1955 and continued to operate till the summer of 1993. At the time it was the only B of A that was open on Sundays and holidays.
The next eight years following the closure of the B of A branch, the Main Street Bank became more of an information center which also happened to exchange currency, cash checks up to $100 and offer access to an ATM. In 2001 the building was used to sell Annual Passports and in 2005 its sole function was the Annual Pass Center.
The annual passport processing center will now be relocated to the Plaza Pavilion and the Opera House exit will revert back to its original, non-commercial self.