Disney's California Adventure is quite a mess right now with construction projects going on everywhere. One of those projects is Cars Land, a new area within the park that will be themed after the Disney/Pixar animated movie – Cars.
The actual location of this new land will be where the Timon parking lot currently resides. A recent photo reveals that the parking lot is shrinking in preparation for the development of Cars Land.
As you can see, Cars Land will sit behind the California Screamin' roller coaster or just to the south of the Paradise Pier area. It will sit on 12 acres of what's left of Disneyland's original parking lot.
The featured attraction will be Radiator Springs Racers. While Disney has been sparse on the official info about this E-ticket attraction, the talk is that it will use a ride system similar to the one at Test Track in Walt Disney World's Epcot. Since that attraction is reminiscent of slot cars, adapting it for a racing ride sounds like a great idea. Look for hairpin turns, banked curves, and plenty of peel outs.
Cars Land will also offer two other, smaller rides based on the film's characters, Luigi and Mater, as well as a Flo's Cafe restaurant.
Here is an early concept drawing of what the land might look like.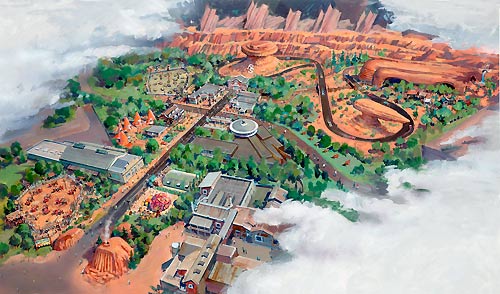 Cars Land is scheduled to be completed by 2012.
Timon parking lot photo by Adrienne Vincent-Phoenix of MousePlanet.