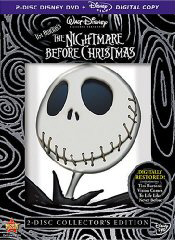 Even though it is one of my all-time favorite animated features, I still do not own a copy of Tim Burton's "The Nightmare Before Christmas." Now that will change with the release of a 2 Disc Collector's Edition in available starting today.
If you do not recall the story line, let me refresh your memory. Bored and unhappy with the life of being "The Pumpkin King" Jack Skellington of Halloween Town, Jack sets out to find something exciting. Jack discovers "Christmas Town" and takes it upon himself to take over the duties of Santa to deliver toys across the world to children.
Disc One contains the main feature (along with several previews) which has been digitally remastered and restored. Unlike the earlier release in 2001, this version is true anamorphic widescreen, meaning that the picture expands to fill the entire screen on widescreen televisions.
While most of the bonus features are on Disc Two, there are some goodies on the first disc including:
Tim Burton's original "The Nightmare Before Christmas" poem is narrated by Christopher Lee with unique paper-style animation.
The Making of Tim Burton's The Nightmare Before Christmas.
New audio commentary with Tim Burton, Henry Selick (director) and Danny Elfman.
"Backstage Disney" – a selection of special material about the Haunted Mansion Holiday attraction at Disneyland created just for this DVD set. The first segment, called "On Track," lets you experience the Haunted Mansion Holiday attraction with actual ride narration in English, optionally with trivia pop-ups. Then in "Off Track", you discover what went into creating all the creepy fun of Haunted Mansion Holiday.
Disc two contains all the additional bonus features including:
Frankenweenie, with a new introduction by Tim Burton
Vincent
Deleted scenes – some storyboarded but not animated, and some animated but cut before the final edit.
The Worlds of Tim Burton's The Nightmare Before Christmas" – concept art and basic character animation samples.
A storyboard-to-film comparison of the "Town Meeting Song"A selection of posters and trailers.
What's the cost of this collector's edition? Get ready for a bit of sticker shock, at least as far as DVDs go. The retail version will run you $32.99 ($39.99 for Blue-Ray). For any serious collector of animated features, this will be a must have, even if you have previous copies.