For the first time in Disney Imagineering history, Imagineers are going to take advantage of the ability to swap out computer programs and change one of the midway games at Toy Story Midway Mania. The transition will occur in conjunction with the upcoming Toy Story 3 which is scheduled in theaters on June 18.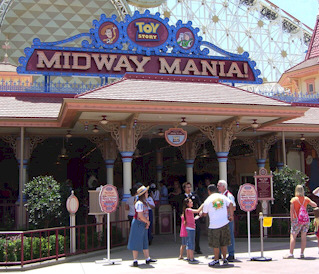 The balloon pop game will be changed from Bo Peep and her sheep to Rex and Trixie (the triceratops from the new movie), and will feature a jungle/volcano theme.
What is significant about this change is that the attraction very likely will experience zero downtime during the change. This is due to the fact that the change only involves changing out computer programs which can be done  overnight. Therefore it is assumed that the attraction will simply close one day with the old game and reopen the next day with the new game.
This also creates the opportunity for Imagineering to make frequent changes such as implementing seasonal overlays for the attraction as they already do with The Haunted Mansion, it's a small world, and the recent overlay done on Space Mountain. Only in the case, the overlays can be done overnight when the parks are closed.
This leads one to wonder if more of these types of Imagineering will appear in attractions of the future giving the Imagineers the ability to keep attractions fresh and up to date.
It's not certain whether those changes will appear at the version of Toy Story Midway Mania at Disney's California Adventure, but it would be a reasonable assumption.