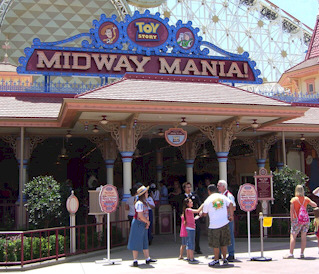 Now that the Toy Story Midway Mania attraction is open at both Hollywood Studios at Walt Disney World in Orlando and California Adventure at Disneyland Resort in Anaheim, Magical Mountain.net has come out with some very interesting fun facts surrounding this new Disney attraction.
I'll provide a few that I thought were most interesting below but be sure to visit the original post at Magical Mountain.net for the full list.
This is the first time that Walt Disney Imagineering has created an attraction for two Disney Parks simultaneously. Toy Story Midway Mania! opened May 31 at Disney's Hollywood Studios in Florida followed by a June 17 opening at California Adventure in Anaheim.
It has been estimated that, each day, guests could break more than one million virtual plates playing the games with the spring-action shooters.
In each of the Midway games, there is at least one "Easter egg" – a target that can trigger the appearance of bonus, high-value targets and other changes in the scene.
This is the first attraction designed by Walt Disney Imagineering that required the Imagineers to wear 3-D glasses to art direct all the black-light paint elements.
It takes more than 150 computers communicating over multiple networks throughout the attraction to create the show that responds to every pull of a guest's spring-action shooter and to every move of their midway tram.
Regarding the Mr. Potato Head Audio-Animatronic figure you encounter in the ride queue:
Mr. Potato Head is able to say more lines of dialogue than any Audio-Animatronics figure ever created by Walt Disney Imagineering.
Mr. Potato Head is the first Audio-Animatronics figure that can remove a body part and re-attach it (he does this with his ear).
The Mr. Potato Head Audio-Animatronics figure has new, highly-expressive and animated eyes that can look directly at a particular guest in the queue when speaking to him/her.
Mr. Potato Head is the first Audio-Animatronics figure whose mouth appears to form words and vowel sounds as it moves.
I can't wait to visit this attraction. I'll most likely experience it first in Florida as I am planning a trip to Walt Disney World in October. That is if I don't get the itch to drive to neighboring California when it gets cooler and the kids return to school. For now I'll have to settle for this one of many YouTube videos as well as this excellent review I found at MousePlanet.
Toy Story Midway Mania is like the Buzz Lightyear ride in that it offers an inter-active experience where riders can shoot at targets, earning points as they go along. However, it appears that the Toy Story attraction includes giant video walls as opposed to the traditional three dimensional dark ride environment Buzz Lightyear offers.
In the YouTube on-ride video, riders move from video screen to video screen and shoot at targets in what is representative of a state of the art midway games.