"Aladdin – A Musical Spectacular's" long run at the Hyperion Theatre in Disney's California Adventure will come to a close on August 15, 2010 to make way for "Toy Story – The Musical" which is scheduled to debut in 2011. The Toy Story characters and playful plot will come to life before your eyes in a dazzling, musical stage spectacular where viewers will be treated to a unique "toys' eye view" of life in Andy's room.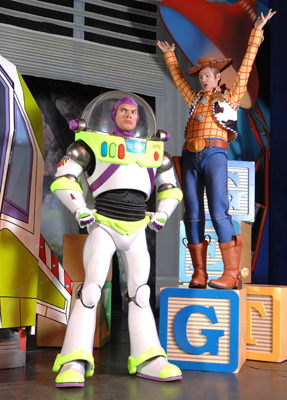 The 50-minute musical aims to preserve the humor and heart of the original film and will explore the true meaning of friendship as Buzz Lightyear and Woody transform from jealous adversaries to best friends with an unbreakable bond. The stage show is to feature a larger-than-life set design, all-new songs, vivid projected backgrounds and elaborate costumes.
"When we first thought of bringing Toy Story to the stage, there was a great deal of excitement about the project," said Anne Hamburger, Disney Creative Entertainment executive vice president. "Everyone on our team could immediately see how the heart and comedy of these characters could come alive in a memorable way that is unique to musical theater."
To make way for this addition to Disney's California Adventure park, the long-running "Aladdin – A Musical Spectacular" will have its final showings on August 15, 2010.
So if you haven't see Aladdin yet or want to see it one more time before it closes forever, be sure to visit California Adventure before its summer closing date.
Oh and if you want to ge a sneak peek of what the Toy Story show might be like, there is a video of the show as it appeared on Disney Wonder cruise ship on 10-03-08, filmed and uploaded to YouTube by  mousepal1980.