Orlando Attractions Magazine is reporting that the rumors surrounding recently leaked blueprints related to a very near future expansion of Fantasyland in Walt Disney World's Magic Kingdom are indeed true. In fact signs that construction is about to begin are already evident.
If you recall from my recent write-up, the plans (shown below) call for the addition of several new areas to Fantasyland including sections devoted to Disney princesses Aurora, Ariel,  Belle and Cinderella. Additionally, Dumbo would be moved and enhanced with two spinning sections instead of one and Tinker Bell and her fairy friends would take over the current entrance of Toontown, replacing it with Pixie Hollow.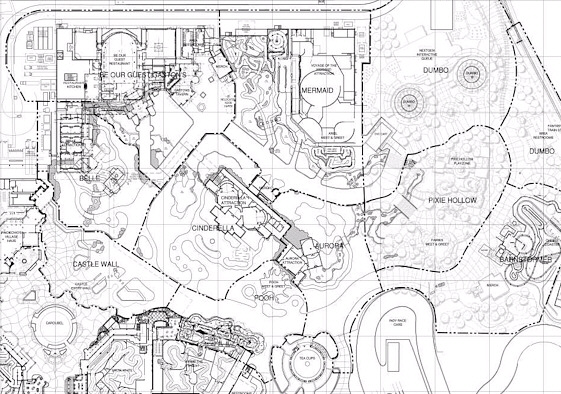 Here is some new information related to the expansion:
Some cast members who have backstage access to Fantasyland and Toontown are now reporting that some construction has begun in these areas – and the assumption is that it is part of the major overhaul.
Areas normally open for use by cast members are being blocked off and even some buses are being rerouted.
There are sources who claim to have spoken to Imagineers who said that these plans are indeed final and in-progress.
Now I must point out that Disney has not officially announced any plans to renovate Fantasyland in Orlando yet, so it is all still rumors at this point. We will certainly keep wtach on any further news related to this "possible" project.