The Walt Disney Company revealed a new program today on Good Morning America that allows individuals to volunteer one day of  service to a participating organization in exchange for one day of free admission to a Disney Park. It's a first-of-its-kind program Disney is calling "Give a Day, Get a Disney Day."
The free one-day admission ticket will be made available to as many as 1 million people who volunteer through HandsOn Network, a giant volunteer organization and will be honored at one of Disney's Anaheim and Florida parks.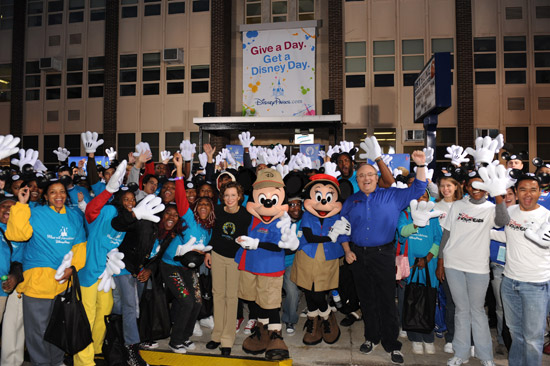 The program officially begins on January 1, 2010. Once it's live, you'll be able to visit www.DisneyParks.com and search for an eligible volunteer project. After completing the volunteer work, an e-mail will be sent from Disney with a link to print out a certificate to redeem at a theme park for a free one-day, one-park admission. And if you're unable to use the ticket, it can be donated to a charity designated by Disney.
"It's a great way to honor guests who are making a positive contribution to their communities," Disney President and Chief Executive Robert A. Iger said in a statement.
The "Give a Day, Get a Disney Day" campaign represents another installment in promotions designed to keep visitors coming to the theme parks despite the recession. Hotel and ticket discounts this last year stabilized attendance in Orlando and boosted traffic to Anaheim, even as it squeezed profit margins.
HandsOn is part of the Points of Light Institute, which operates 250 centers throughout the country, connecting volunteers to more than 70,000 nonprofit agencies seeking help.