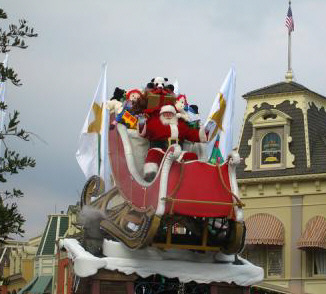 Disney Parks will celebrate the 25th anniversary of the Walt Disney World Christmas Day Parade this December 25 which will air on ABC-TV. Hollywood's biggest names and Disney's most beloved characters will bring the holiday magic home in song and style as they light up the holiday from Walt Disney World Resort in Florida and Disneyland Resort in California.
Alongside show-stopping performances and incredible float displays, Regis Philbin and Kelly Ripa from Walt Disney World and Ryan Seacrest from Disneyland will mark the special anniversary of the Emmy-awarding winning television spectacular. Together, they will introduce a star-studded ensemble shining as bright as the fireworks above the parks' gleaming castles.
Here are some of the festivities that are planned:
Miley Cyrus will perform a rockin' version of 'Santa Claus Is Coming To Town' at the Magic Kingdom.
The Jonas Brothers will perform their Christmas tune 'Joyful Kings' at Disneyland Park.
Grammy award-winning legend Jose Feliciano will perform his classic 'Feliz Navidad.'
"American Idol's 2008 winner David Cook will ring in the holiday spirit with an exclusive acoustic arrangement of 'Have Yourself a Merry Little Christmas.'
Multi-platinum recording artist, Billy Ray Cyrus will bring down the house with his rock 'n' roll Christmas single – 'Run Rudolph Run.'
Broadway superstar Sarah Brightman will perform 'Silent Night.'
Star of Disney's blockbuster 'High School Musical' films, Corbin Bleu, will sing a Disney Parks original song 'Celebrate You.'
Playhouse Disney's entertaining music group for preschoolers, Imagination Movers, will spread festive cheer singing an original holiday song 'Give a Gift.'
That's a lot of entertainment not to mention an array of your favorite Disney characters and stunning Disney floats.
In honor of the silver anniversary of the parade, the television program will look back on 25 years of Disney Park history as well as feature some of their newest attractions.
The two-hour special of the Walt Disney World Christmas Day Parade will air in HD December 25 on ABC-TV throughout the country – 10 a.m. Eastern and 9 a.m. Central, Mountain and Pacific times.