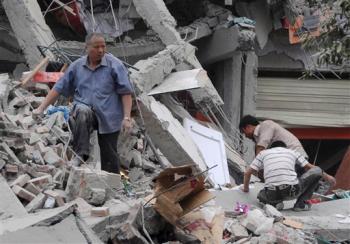 The Walt Disney Company announced today that it will contribute $1 million (approximately RMB 7 million) in humanitarian aid to the victims of the earthquake in China. The donation will be put towards acquiring materials for immediate relief efforts, helping and supporting displaced and distressed children and rebuilding damaged schools.
"On behalf of The Walt Disney Company, I extend our deepest condolences to the people in China and to all of those affected by this recent unfortunate event," said Robert A. Iger, president and CEO. "We hope that our donation will aid emergency management teams and organizations in their valiant efforts to provide assistance to those impacted today, and also help families rebuild and reestablish their communities."
"It is the wish of every member of our staff to provide assistance to those affected by the earthquake and their families. We hope that the company's contribution along with our staff's personal contributions will make a difference during these times of need," said Stanley Cheung, Executive Vice President and Managing Director, The Walt Disney Company, Greater China.
In addition, Hong Kong Disneyland Cast Members, as well as Disney's China, Hong Kong and Taiwan-based employees, have made individual monetary contributions.