Can you believe it has already been about a year since The Walt Disney Family Museum opened? Since its debut last year in Presidio  San Francisco, the award-winning 40,000 square foot building has been host to enthusiastic visitors from around the world. To celebrate their 1st anniversary, the Museum will host a weekend of family fun and festivities from October 1 to 3.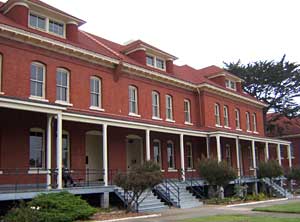 "It's hard to believe that a year has passed since we opened our doors in the Presidio," said Richard Benefield, founding executive director of the Museum. "Our efforts to present the life and achievements of Walt Disney in an interactive and imaginative way are ongoing and we're pleased to see families, teens, and seniors all enjoying different elements of the Museum."
In celebration of its first anniversary, the Museum will host a weekend of family fun and festivities from October 1 to 3, and will extend its admission hours to 9:00 pm on Saturday, October 2.
Events on Friday, October 1 – Sunday, October 3, 2010
Live Music throughout the weekend. Bring a picnic lunch for the front lawn and we'll serenade you with ragtime jazz. Friday from 2 :00 pm – 5:00 pm and Saturday 11:00 am – 2:00 pm
Our first Saturday Night Soiree. Half-price on Museum Admission tickets and a cash bar from 6 pm to 9 pm on Saturday night.
The "Where's Walt?" Treasure Hunt Contest – Grand Prize is a Private Screening of a Disney classic for you and up to 50 of your closest friends in our Theater.
Learn more about Walt Disney and his legacy with our "LOOK CLOSER"  gallery talks.  Museum staff will share details about the visually dramatic "Steamboat Willie" Wall – our special Pinocchio Animator's desk – and the first underwater movie camera.
A 25 minute "Best of" Video in our theater will feature special guests who appeared this past year, including Disney Legends, executives, animators, and stars.
Radio Disney Road Crew on Saturday from 1:00 – 3:00 pm with games, contests, and music for the whole family.
Snow White and the Seven Dwarfs  – A treat for the whole family on our Big Screen at 1:00 pm and 4:00 pm (Free with Museum Admission).
Create your own moviola in our Learning Center. New Drop-in Craft activities Friday, Saturday and Sunday 11 am to 4 pm.
The fascinating and inspiring story of Walt Disney, whose artistry, imagination and vision helped define 20th-century America, has been brought to life at The Walt Disney Family Museum in the Presidio of San Francisco.  The Museum illuminates Walt Disney's tremendous successes, disappointments, and unyielding optimism as he worked tirelessly to advance the art of animation, produce classic motion pictures and develop the first great American theme park.  The Walt Disney Family Museum, L.L.C. is owned and operated by the Walt Disney Family Foundation, a non-profit foundation and is open Wednesday – Monday 10:00 am to 6:00 pm on the on the Main Post of the Presidio.