Walt Disney World is planning the construction of a new 2,000-room resort that will open in 2012 adding to the already large list of hotels/resorts located in the Orlando Florida property.  "Disney's Art of Animation Resort" will feature 1,120 suites with room for as many as six people per room and another 864 traditional rooms, with a design theme based on four of the company's most popular animated movies.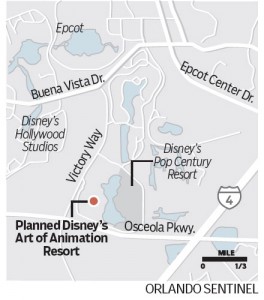 The Art of Animation Resort will be built on a 65-acre plot across a lake from Disney's Pop Century Resort. The location will allow Disney to use a pair of long-neglected, unfinished buildings that Disney originally constructed as a second phase of Pop Century but which it abandoned amid the 2001 recession. Pop Century's first phase was completed in 2003.
Plans for the new resort show 10 wings of rooms and a separate building housing the check-in lobby and restaurants. The hotel wings will be separated into four distinct groups, each with a theme from a different animated movie: The Little Mermaid, The Lion King, Finding Nemo and Cars.
The resort will be priced as a "value" hotel, at the low end of Disney World's scale, similar to Disney's Pop Century and All-Star resorts, where standard rates begin at $82 a night. It is the first hotel that Disney has built on the property in seven years.