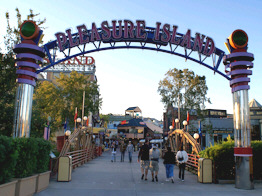 Walt Disney World Resort has unveiled their new vision for Downtown Disney which will include extraordinary new shopping, dining and other experiences including a completely re-imagined Pleasure Island. Also planned are numerous enhancements to popular Downtown Disney locations, as well as additional theming and storytelling brought to life by Walt Disney Imagineers.
"We are committed to offering guests new and exciting experiences they can only have at Walt Disney World Resort," said Downtown Disney Vice President Kevin Lansberry. "Our bold new vision for Downtown Disney reflects the feedback we receive from our guests each and every day and will enable us to continue to offer the high-quality entertainment that is our hallmark."
Over the next year, the 120-acre entertainment-shopping-dining complex will add a number of one-of-a-kind, immersive experiences for guests. Downtown Disney will even get its own iconic attraction — a giant, tethered balloon that will take guests 300 feet into the air to view the amazing vistas of Walt Disney World Resort.
For a full run-down of what is to be added and enhanced, check out the original story at Magical Mountain.net.