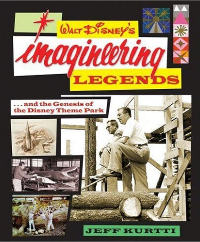 There's a new book out that any serious fan of nostalgic Disney should have in their collection. "Walt Disney's Imagineering Legends and the Genesis of the Disney Theme" is available for purchase at The LaughingPlace Store for just $35.00. I've just purchased mine and am anxiously waiting its arrival.
Inside you will find information on all the famous Imagineers – Harper Goff, Ken Anderson, Sam McKim, Marc Davis, Claude Coats, Rolland "Rolly" Crump, Yale Gracey, Fred Joerger, Harriet Burns, Wathel Rogers, Roger Broggie, Ward Kimball, and many others. The book's 157 pages will reveal how these talented people helped to bring about what is still the most unique theme park experience today which I might add has also become a model for so many to follow after.
Following is a summary of what you will find:
Fifty years ago, Walt Disney utterly transformed the concept of outdoor entertainment venues from tawdry carnivals and seedy amusement piers called "amusement parks," to an entirely new destination that would come into common vernacular as the "theme park."

Although Disneyland was the inspiration of one man, Walt did not achieve this history-altering concept on his own. Using his innate talent for combining disparate skills and personalities, he assembled a creative team that blended imagination with engineering. Walt called this group his "Imagineers."

Walt Disney's Legends of Imagineering and the Genesis of the Disney Theme Park introduces a core group of the originators of Disneyland and the other Disney parks. It explores their individual relationships with Walt and each other, their creative breakthroughs and failures, and their rivalries and professional politics. This candid narrative of their lives and contributions to a very special form of entertainment illustrates why, half a century later, their work continues to be vital and important to millions of people every day, and all over the world.

Lavishly illustrated throughout with rare and never-before-seen artwork and photographs, Walt Disney's Legends of Imagineering and the Genesis of the Disney Theme Park will further enrich the reader's appreciation of the exceptional talent behind Disneyland's creation and ongoing evolution.
If you are not already convinced you should immediately purchase this book to expand your Disney theme park knowledge, Ken Pellman has done a full review at LaughingPlace.com. Myself – I'll skip the review and schedule some time to read through it once it arrives.