Is a new Disney Vacation Club resort possibly is in the works at Walt Disney World's River Country property? It is indeed according to Screamscape.com who has reported spotting Disney engineers going over the site to determine what must done to clear away the remains of Disney World's former River Country water park and create a new Disney Vacation Club resort.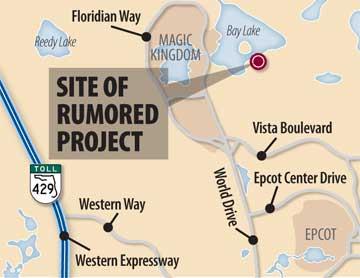 River Country was the first water park at the Walt Disney World Resort. It opened on June 20, 1976 and ceased operations on November 1, 2001. On January 20, 2005, The Walt Disney Company announced that River Country would remain closed permanently.
Positioned on the shore of Bay Lake near Discovery Island in Lake Buena Vista, Florida, River Country was part of Disney's Fort Wilderness Resort & Campground and matched this area in its rustic wilderness theming, replete with rocks and manmade boulders (created by the same man who created Big Thunder Mountain Railroad at the Magic Kingdom).
According to Screamscape, the new vacation ownership project's design will be "based on the old Buffalo Junction plans from years ago." The shelved Buffalo Junction project — also called Wilderness Junction — was to include a 600-room resort along the southern coast of Bay Lake at Walt Disney World next to the River Country water park, which was open from 1976 to 2001.
If the project comes to fruition, it will join other Disney Vacation properties which include the 295-room Bay Lake Tower at Disney's Contemporary Resort, the 458-room Animal Kingdom Villas and the 136-room The Villas at Disney's Wilderness Lodge, just to name a few.