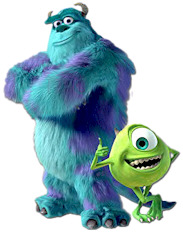 Little has been revealed regarding the Monsters, Inc. 2 project in the works since 2008. However, new information released by Disney Central Plaza sheds some light that the movie is going to be a prequel.
The synopsis for 2nd edition of the Monsters, Inc. film "will take us back to before a time when Mike Wazowski was top comedian, before James P. Sullivan was top scarer, and even before the buddies joined the MI workforce. In fact it takes us all the way back to school – the University of Fear to be precise. Although the two start out as frenemies, Monsters, Inc. 2 will weave the tale of how the dynamic duo transition from rivals to BFFs."
Keep in mind that at this point, this news is simply speculation and  rumor. Things could change and evolve over the course of development so the currently unveiled plot may not be used for the film.
What we do know is that the new film will feature "Monsters, Inc." director Pete Docter as he returns to the helming duty. Monsters, Inc. 2 is due November 2, 2012 in the U.S.