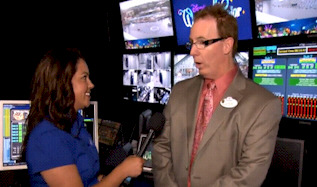 I just love all the great content that Disney Parks Blog puts out. Today they released a short video demonstrating the massive control room that controls over 18,000 active points in the "World of Color" show at Disney's California Adventure. It is indeed one of the biggest show control systems ever built.
Of special interest is the fact the the actual control room is tucked away in one of the parade rooms, out of view of the lagoon itself. That certainly doesn't hinder them from being able to completely see what is going on as you will see in the video.
The video also shows the telemetry for what Disney Imagineering calls "subs" which are comprised of three giant rooms, each about the size of a semi-trailer, which contain all the electrical distribution for the show.
Now with no further ado, enjoy this behind-the-scenes peek at the World of Color control room.