Disney officials are proudly proclaiming that the upcoming World of Color water show at Disney's California Adventure will far surpass Disneyland's Fantasmic and Epcot's Illuminations in magnitude, creativity and technical wizardry. And if you have been following the construction progress as I have, you'd have to agree.
The new attraction is scheduled to debut in Spring 2010.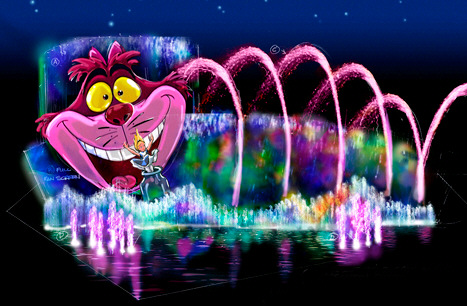 Highlights of the 25-minute nighttime spectacle will include:
A 1-acre underwater superstructure larger than a football field
Laser, fog and fire special effects
1,200 programmable fountains capable of reaching heights of 200 feet
Individual fountain controls for lighting, color intensity and water angle
Water mist screens stretching 50 feet high by 380 feet wide
* Animated clips from "Alice in Wonderland," "The Lion King," "Pocahontas," "Toy Story" and "Wall-E"
The 18-minute World of Color will feature an array of dancing fountains, movie projections and lighting effects all tied to the original Sherman Brothers musical score from the 1960s television show.
Walls of water that take the shape of virtually every recognizable Disney character and skyrocketing fountains will shoot so high they'll obscure the newly renovated 16-story Mickey Mouse Ferris Wheel.
Here are two videos posted to YouTube, one of which reveals some concepts surrounding the attraction and the other that looks at some of the construction process.
World of Color Concepts Shared at Blue Sky Cellar
Behind the Scenes at the Construction of 'World of Color'
World of Color, which blends the nighttime spectacle of Fantasmic and the Fountains of Bellagio in Las Vegas, is one of the major additions of a $1.1-billion makeover planned for Disney's California Adventure through 2012.