The Orlando Sentinel reports that the Cinderella Castle Royal Suite, which was created in early 2007 for overnight stays by winners of Disney's two-year "Million Dreams" promotion, will remain open for selected guests next year, though on a more limited basis.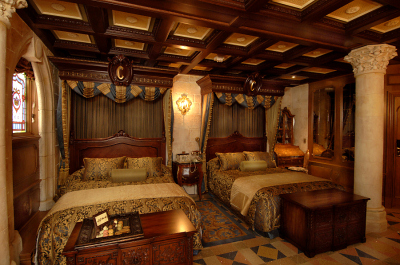 During the Million Dreams promotion, which ends Wednesday night, there has been a nearly daily sweepstakes prize for a family picked at random on Disney World property.
The suite is located in the tower of Cinderella's Castle, smack dab in the middle of the Magic Kingdom theme park in Orlando. The 650-square-foot, three-room Royal Suite offers a mix of 17th-century French luxury, 21st-century convenience and 1950s-era motifs from Disney's Cinderella movie.
Features include stained glass, a mosaic floor, original Cinderella movie concept art by renowned Disney artist Mary Blair, a display case containing a single glass slipper, and a whirlpool tub. A concierge is on standby outside.
The room will continue to be available for use as the prize for promotions, including some run by outside companies, Disney spokesman Rick Sylvain said Wednesday.
For example, the room is being offered as a prize in a sweepstakes called "Inside Your Celebration," organized by the Internet travel portal Orbitz.
"This ties in nicely with our 'What Will You Celebrate?' " Sylvain said. "Other uses and opportunities for the suite are still to be determined.
"We will continue to evaluate all options," he added. "It's all about 'right fit.' Not unlike a certain glass slipper."
Two things I'm curious about – will they end up renting the space out to those willing to pay big dollars and if so, how long will the waiting list be? I'm also curious to see if a similar approach will be taken for the Dream Suite in Disneyland which is similar to the Cinderella Castle Royal Suite but with the Disneyland version residing above the Pirates of the Caribbean attraction.