The Walt Disney Company has launched a new online destination designed to help parents, both new and expecting, celebrate magical moments with baby. DisneyBaby.com offers inspired ideas, mom-tested tips and an extensive collection of Disney baby branded products.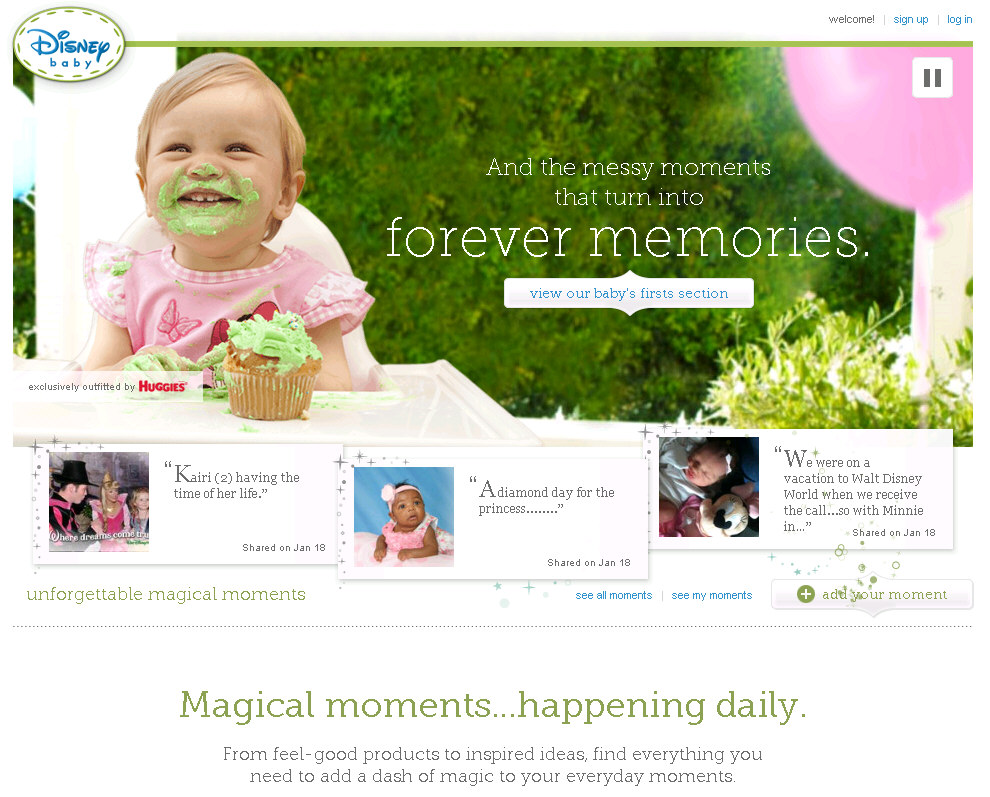 Here is the official press release:
GLENDALE, Calif., January 17, 2012 – Disney announced today the launch of DisneyBaby.com, a new online destination and product showcase for expectant and new parents, filled with inspirational ideas, tips from real moms and the most comprehensive collection of Disney Baby brand products on the Web.
At the heart of the site experience is Disney Baby Magical Moments, an easy-to-use tool for parents to upload their favorite baby photos and memories, adding to a dynamic collection of shared family experiences from other parents that flow throughout the site.  DisneyBaby.com features the mom-trusted Huggies brand, as its exclusive sponsor.
"Disneybaby.com continues Disney's longstanding tradition of helping families create magical moments together," said Jessi Dunne, executive vice president, Disney Moms and Babies for Disney Consumer Products. "Our new destination emphasizes the joys of parenthood by offering tools, products and everyday solutions in a fun but meaningful way that resonate with mom's and dad's desire to bond with their baby."
To make the most of these special bonding moments with Baby, DisneyBaby.com is organized around key moments of the day: Getting Ready, In the Nursery, Dressing Baby, On-the-Go, Mealtime, Playtime, Bathtime and Baby's Firsts.  Key site features include:
Disney Baby Product Collections — Parents will find an extensive selection of Disney Baby products to meet Baby's needs for every key moment of the day, including one-of-a-kind nursery products, on-the-go baby gear, delightful products for feeding and bathtime, magical toys, and Disney Baby's softest, cuddliest clothes.  Parents and gift givers can quickly browse Disney Baby product collections and filter by gender, product type, Disney character and retailer.  Links to retailers' websites are provided for purchase opportunities.
Inspired Ideas – Chock-full of ideas that add a touch of Disney magic to everyday moments with Baby, DisneyBaby.com offers creative inspiration throughout the site, from nursery design tips to age-based playtime activities to DIY party ideas for Baby's first birthday and more.
Tips from Real Moms – Real moms offer go-to tips on a wide range of topics from making bath time fun for Baby to stocking the diaper bag with must-have essentials to games sure to get Baby giggling.
Disney Baby Magical Moments – Disney Baby invites moms and dads to weave their own experiences with Baby into the very fabric of the site by uploading and sharing their favorite moments and photos.  Parents will watch them come to life as part of a vibrant panorama of shared experiences of parenthood.
"We continue to focus on building compelling new digital platforms to serve the needs of parents at every life stage, and are very excited to introduce a new destination that shows expectant and new parents how to add a little Disney magic to their growing family's life," said Brooke Chaffin, senior vice president, Disney Interactive Moms and Family.
According to Erik Seidel, vice president, Huggies Brand, the new site serves as a great channel for the Kimberly-Clark brand to offer useful tips, resources, and tools to meet parents' needs so they can enjoy every moment of their journey, while strengthening the brand's long standing relationship with Disney. "We are thrilled to serve as the exclusive site sponsor for what we believe will become a go-to site for moms everywhere."  Huggies is a part of Kimberly-Clark's portfolio of trusted brands that lead the world in providing essentials for a better life. For more information, visit www.HUGGIES.com.
About Disney Baby
The Disney Baby brand provides parents with essential products and information they need for Creating Magical Moments Right From The Start™.  From its launch of the Disney Cuddly Bodysuit™ in Spring 2011, and through products designed with parents in mind, Disney Baby offers today's parents everything they need to bond with Baby at every stage.  The Disney Baby product line includes essentials for Apparel, Nursery, On-the-Go, Bathtime, Mealtime, Playtime and Baby's Firsts.  A multifaceted digital resource for families, Disney Baby provides consumers with information and inspiration online via the website www.DisneyBaby.com, on Facebook (www.Facebook.com/DisneyBaby), on YouTube (www.YouTube.com/DisneyBaby) and Twitter (www.Twitter.com/DisneyBaby).