After signing a fresh 20-year pact with the French government, Euro Disney hopes to build a third theme park on the current property. The new agreement enables the group, in which the Walt Disney Company holds a 40 percent stake, to continue building on the site in Marne-la-Vallée outside of Paris for a further 13 years. The current agreement was supposed to end in 2017 but will now will now extend to 2030.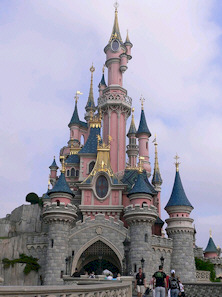 The French government originally gave consent for Disneyland Paris to be built on the condition that Disney would only buy pockets of land in stages once previous plots have been developed. It was France's first regional development public-private partnership.
In the latest agreement with the French government, authorities have simultaneously agreed to increase the number of hectares available for Euro Disney to develop, from 1,943 to 2,230. This will mean greater space for accommodation, entertainment and an eco-tourism resort.
A big part of this new agreement includes the fact that the park will build in partnership with Pierre & Vacances Co a new leisure village called "Village Nature of Val d'Europe." This project was announced many years ago however this Village will include a water park on which WDI Imagineers worked on the design. Unfortunately it will not be the original Lava Lagoon project hat many might have expected.
As you can see, this moves Euro Disney into the residential property business, with the possibility of eco-friendly holiday homes being contructed and then sold to private buyers.
The environmental resort would be developed in phases over a period of 20 years and could grow to approximately 500 hectares in size. By 2030, it is believed that projects within the new perimeter will generate an approximate investment of $8bn by various tourist and urban developers, including €1.8bn for the new eco-tourism scheme.
Philippe Gas,the group's chief executive, said: "We are renewing our collective confidence in the future of Disneyland Paris. For over twenty years, this model has brought sustained growth to the region, while ensuring a close relationship with our public partners and neighbouring communities.  We are committed to continue developing our tourist destination and supporting France's tourism leadership."
Not much detail as far as the third theme park itself but at least with the new deal, Euro Disney has the time and hopefully the investment dollars to eventually open that third gate.