A new iPhone app is now available that not only provides wait times for Disneyland resort attractions but integrates with Facebook, Twitter, and FriendFeed. Best part is it is completely free.
MouseWait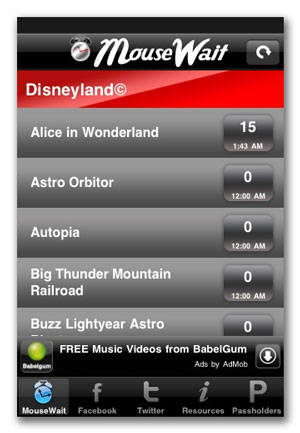 is a free iPhone app that gives Disneyland fans accurate wait times and the chance to bring their social media friends into the app to create a true social Disneyland experience.
The best part about Disneyland is experiencing it with other people, and MouseWait is a must have for anyone who is at the park, planning a trip, or at home to satisfy your Disneyland "fix" by looking at live webcams, real-time news and Twitter updates – all from your iPhone!
"I use this app when I am at the park to get accurate wait times, real-time news, and to interact with my Facebook friends who are also Disneyland fans. I use it at home to see images and tweets from the park, to watch the live Disneyland web cams, and to talk to my Facebook friends who are at the park. It is great for trip planning too," said Kelly Johns who developed the app for app316.com.
Mousewait will give iPhone users an instant mobile gateway into Disneyland, California Adventure, and Downtown Disney. The app joins the Magic of Disneyland with the most powerful social networks in the world – Facebook, Twitter, & FriendFeed. It is the first Disneyland iPhone app to bring Disney fans a combination of accurate wait times, live Disneyland webcams, Facebook integration, Twitter feeds, and more.
"We have been annual passholders for over 15 years and our goal with MouseWait is to give Disneyland fans what they want most – accurate wait times, real-time Disneyland news via Twitter and the top Disney blogs in the world, restaurant menus with pricing, LIVE webcams, Facebook integration, and more," said Johns.
The Facebook module allows you to login to your Facebook account and check your Newsfeed from within the app. It also has a feature called "Disneyland Friends" where it shows your Facebook Friends who have MouseWait installed. You can easily click on a friend and see what they are doing, post to their wall, etc. You can also post wait times direct to your Facebook page.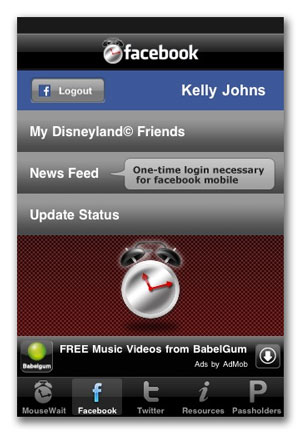 The Twitter page gives you a real-time customized Twitter search that shows you all tweets coming from Disneyland, so you can see which celebrities are there, how busy it is, and pictures from the park.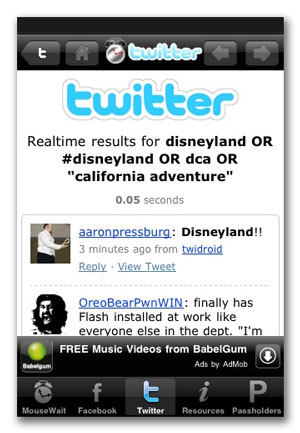 MouseWait also includes a FriendFeed page which displays real-time posts from the top 20 Disneyland blogs in the world.
if that weren't enough,there is a 1 mile radius search in included in the app. The idea is to give you full, comprehensive access to real-time Disneyland news so you can get an idea of what's going on within seconds.
The Resources page gives you tons of great info including live updated restaurant menus (with pricing) from Disneyland, DCA and Downtown Disney, the Disneyland Weekly Update, Event Times and Hours, an Annual Passholder blockout calendar (so you can see if you can get in), a complete Disneyland phone list, top 10 Disneyland tips, and more.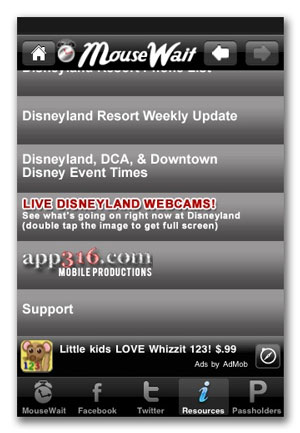 "This version of MouseWait will always be free. We are working on MouseWait Premium which will improve integration with Facebook and Twitter and add a lot of other cool features, but for now our focus is to give Disneyland fans tons of great features at no-cost as we continue to improve the free version," said Johns, who had the idea of developing a Disneyland app when the app store originally launched.
You can follow MouseWait on Twitter at http://twitter.com/mousewait or visit www.MouseWait.com for more details.