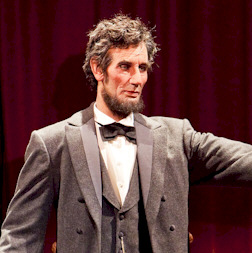 After a nearly 5 year hiatus, "Great Moments With Mr. Lincoln" reopened last Friday at Disneyland. While the 2009 version of the show is a slightly revised, the real attraction is the brand-new Mr. Lincoln animatronic which features a fully electric head—a first for an audio-animatronic figure.
The Main Street Opera House sports a brand new lobby filled with new and familiar exhibits. For example, the hand-crafted from stone scale model of the U.S. Capitol measuring 20-feet-long and weighing in at over one ton is back in place. New to the lobby is the "Spirits" statues from Walt Disney World's American Adventure attraction. There is also a bronze replica of the original Blaine Gibson sculpt of Lincoln's head on display. Imagineer Tony Baxter says the sculpture allows visually impaired guests the ability to experience Lincoln's facial features. Finally, a new video display hanging above a faux fireplace mantle shows a 5-minute video loop, including clips from actor Royal Dano's portrayal of Lincoln for the Omnibus television show.
The show itself is slightly shorter that the older version and begins with narration by Paul Frees that includes a new line that was not used in previous versions. A new Civil War painting by Disney animator John Pomeroy serves as the backdrop for some of the spoken narration.
The new Lincoln animatronic figure features a greater range of facial expression, combined with advances in artificial skin, hair and eyes, and as such, make this figure the most realistic of his predecessors.
MousePlanet.com has an excellent video via YouTube of Mr' Lincoln's speech. Check it out below for yourself and see if you can spot the improvements in the animatronic figure as well as the show itself.