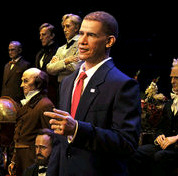 Following a week of sneak previews and Passholder previews, the Hall of Presidents officially re-opened debuting its newest member – President Barak Obama. The new show carries the subtitle "A Celebration of Liberty's Leaders" and for the first time features speaking roles for three presidents.
Abraham Lincoln had been the only speaking President from the show's opening in 1971 until the addition of President Clinton in 1993. From that time on, the sitting President would also have a speaking role in the attraction. So, in addition to Lincoln and Obama, George Washington has also is given a voice.
Rather than write anything further about it, there is a YouTube video that shows some behind the scenes footage of the attraction as well as a video showing president Obama preparing to do the voice-over for the animatronic that represents him in the attraction.
Barack Obama Joins Hall of Presidents at Disney's Magic Kingdom
Behind the Scenes: President Obama & Disney's Hall of Presidents