Move over princess Ariel and make room for Tinker Bell. A new "meet-and-greet" area called Pixie Hollow has taken the place of Ariel's Grotto which is located near the Matterhorn Bobsleds. Here you'll be able to meet Tinker Bell in person which of course will offer excellent photo opportunities. The soft opening occurs today with the official opening will occur sometime next week.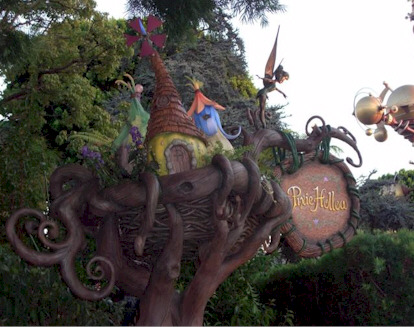 Visitors walking past an "enchanted" pond will feel as though they are shrinking to the size of a fairy through a series of visual and audio cues. Bronze statues of the five Disney fairies — Fawn, Iradessa, Rosetta, Silvermist and, of course, Tinker Bell line the pathway. Along the way, whispers and echoes emanate from the fantasy fairy world. Tinker Bell, played by a 5-foot-tall face character, poses for photos in front of her home, an upside-down tea pot.
It would be expected that Tinker Bell would be a hot commodity right now with the release of the Tinker Bell movie on DVD. In the movie, Tinker Bell believes her fairy talent as a "tinker" isn't as special or important as the other fairies' talents. However when she tries to change who she is, nothing but disaster ensues. With encouragement from her friends Rosetta, Silvermist, Fawn and Iridessa, Tink learns the key to solving her problems lies in her unique tinker abilities and discovers that when shes true to herself, magical things can happen.
And what will become of Ariel? Is she out of a home? Not quite. Shedding her tailfin and donning a dress, the Little Mermaid can be found in the Princess Fantasy Faire at the Fantasyland Theater.
Photo courtesy of MousePlanet.